Technical indicators
Volume Rate of Change
Le Volume Rate of Change (ou ROC-Volume) est calculé de façon identique au Price Rate Of Change mais en utilisant le volume du jour à la place du cours de clôture.
Cet indicateur est égal au pourcentage de variation de volume entre le début de la période donnée et dernier jour.
Méthode de calcul
ROC-Volume = 100 * (V - VP) / VP
où :
V : volume du dernier jour
VP : volume du premier jour de la période donnée
Exemple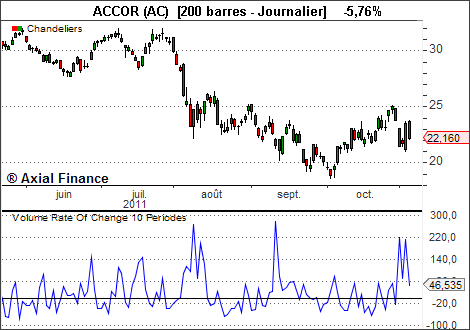 Interprétation
La plus part des évolutions majeures de cours sont caractérisées par une montée brutale des volumes. Le
Volume Rate of Change
indique la vitesse à laquelle les volumes changent.